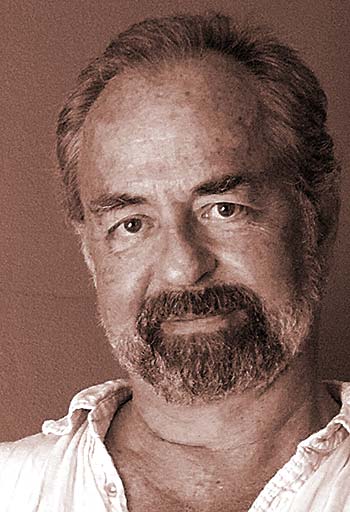 The landscape of the human form holds endless fascination for me. Even at rest, the body's rivers flow, its mountains rumble. This is the essence of life, and exploring it is one of my greatest joys. —Alex Alford, 2018
---
ARTIST STATEMENT
I've never shied from a blank sheet of paper. Because I have no expectations, I can savor the anticipation of discovery.
Drawing from life is exploration: How are muscles beneath the skin wrapping over bone? How is gravity's effect most pronounced? Why does that scapular plane delight my eye?
Drawing from imagination is more of a declaration: The stark definition of this muscle shows determination; the lush softness of this belly suggests sensuality; the presence of this object implies a deeper narrative.
My drawings reflect my love for and fascination with the human form. My recent works combine exploration with declaration to produce a synthesis to which, I hope, everyone can relate.
BIOGRAPHY
Born in 1962 to itinerate educators, my earliest memories are of drawing. At the age of three, in a plane over the Atlantic Ocean, I drew a potato chip. From kindergarten through high school, every test paper I submitted ended up more decorated than when I received it.
My formal art training consisted of a year at a local community college studying under retired illustrators from the automobile industry and two years at Ringling School of Art and Design in Sarasota. My informal training consists of years of wandering the great museums of Europe. The Louvre is like a second home.
I've made my living, to varying degrees, from my art since I was 16. I have drawings and paintings in private collections in the US and abroad, I've executed large murals and erected monumental public scupture, and I've sold illustrations to national publishers and to international corporations. In the midst of this I've raised a family, toured with my band, The Dead Poets, and co-founded a successful data company, BuildFax.
In 2015, I opened my studio, Colourfield, in downtown Asheville, North Carolina, at the top of the blossoming South Slope district. With a dance studio on one side and a theater rehearsal space on the other, I'm surrounded by wonderful variations on the human form, some of whom appear in drawings on this site.
When I'm not drawing figures in charcoal, I draw in my pen & ink journal: www.AlexDrawsLines.com.